Welcome




to the OLLI Online Registration System
OLLI Anywhere Winter 2022 Session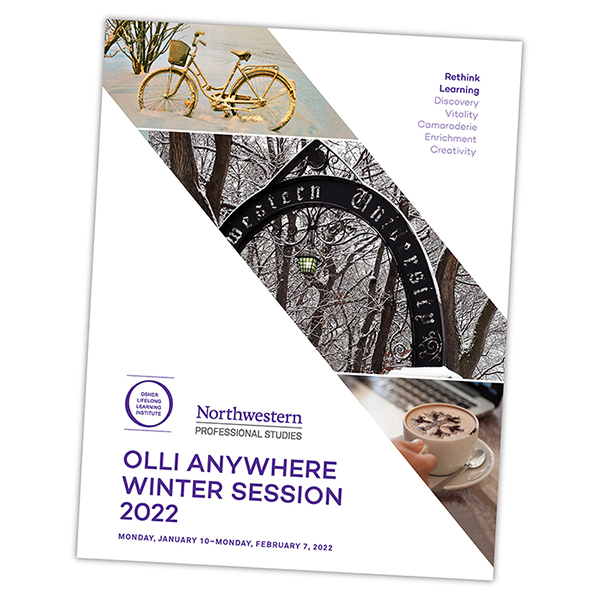 Monday, January 10, 2022–Monday, February 7, 2022
All study groups are online via Zoom for the 4-week winter term.

Winter registration is now closed.

The Spring 2022 catalog releases January 30, 2022. At that time you may browse spring study group selections by clicking OLLI Study Groups by Day or by Subject

in the purple column on the top left of this page

.

You may purchase a spring membership beginning January 30, 2022.

Spring study group registration opens on Monday, February 14 at 9am.
Special Events, Workshops, Lectures, and More.
Registration for these events is on-going. Events may be offered fully virtual or in-person. In-person events are often also available virtually. These events are free and open to all current OLLI members as part of their membership benefits (unless noted otherwise). To view current events, click 'Special Events, Lectures & More

' from the left menu.

For more information about the Northwestern University OLLI program, please visit our website by clicking

here

.
---
OLLI Campus and Contact Information
OLLI office hours are M-F 8:30am - 4:30pm. To reach OLLI staff, email

olli@northwestern.edu

.

For general updates on Northwestern's response to COVID-19, click here to review the University's COVID-19 website.